Floridan Aquifer
Aquifer Storage and Recovery wells (ASR)
Cocoa gets its water from two primary sources: the Floridan Aquifer and Taylor Creek Reservoir.
Many communities in Florida get their water from the Floridan. It's a vast underground reservoir stretching throughout the Southeast and deep into the Florida peninsula. But, like every other natural resource, the water from the Floridan is not limitless and with so many straws in the water, it has to be carefully managed.
In our region, water management and water allocation is the responsibility of the St. Johns River Water Management District. Florida is divided along hydrological boundaries into five water management districts. And, Central Florida is one of the places where the three largest districts "touch."
When any user needs water or more water, they apply to the water management district for an allocation. It's the District's job to ensure that use of that water will not harm the environment and will serve the public interest.
A water use permit is permission to use the water in a specific way for a specific time and under certain conditions.
For many years we have had a permit to use water from the Floridan Aquifer and Taylor Creek Reservoir in order to serve our customers.
To best manage the water that's available to us we have Aquifer Storage and Recovery wells (ASR) located in the Upper Floridan Aquifer. They are used to store freshwater underground for later recovery and use. During the rainy periods, when the demand for water is low, the ASR's are filled. Then, during the dry season, when the demand is high, the water can be withdrawn for delivery to customers.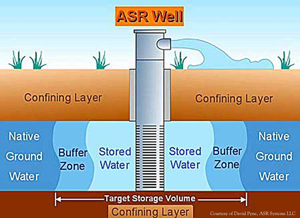 The system consists of 10 wells that can store up to 1 billion gallons of treated water. That's enough to ensure we can deliver water, even during the dry periods.
When we added the ASR technology to our system, not a lot of communities were considering it. We know that our investment in that technology was a good one because it helps ensure that our system always has water. Our customers can depend on it—and they do.
Cooca Water Works.